Updates: Drag & Drop, New Task View and more! Sneak peek at upcoming Wiki View
We've been working hard the past month, and here are some of the latest changes to TipHive!
Drag & Drop 
Now on TipHive you can drag & drop within a Topic to reorder Cards. If you need your team members to view cards in a particular order, you can use this feature to rearrange Cards to your liking.You can also drag & drop Cards into other SubTopics. When you drag a Card to a SubTopic, you will see the option to Move to or Add to. This will either add the card to another SubTopic in addition to its current SubTopic, or move that card from one SubTopic to another.
New Task View
We're introducing a whole new view! Task view will allow you to view your Topic and Cards in a more task friendly format. This view is designed to help with your light planning needs. You can also drag and drop cards in this view. 
Utilize labels to create action items for Cards to really get the most out of task view.
New Site Navigation 
We've improved the site navigation! Now you can quickly drill down into Topics and Subtopics, and jump between pages using the left hand menu. Quickly open and close the new menu by clicking the arrow next to a Topic.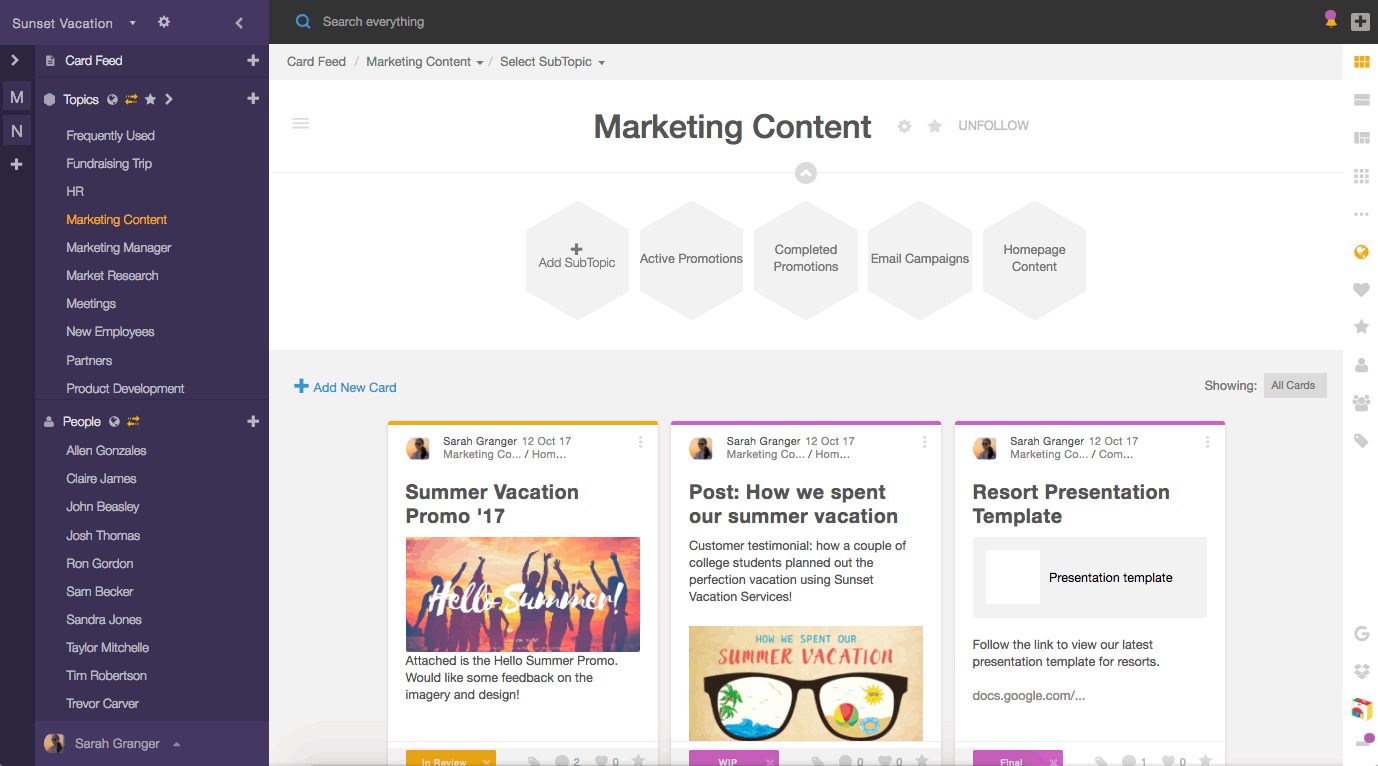 This also allows you to easily move and add cards to new Topics and SubTopics thanks to drag and drop.
Add Images to Comments
You can now add images to comments, which will be useful when you need to clarify on the context of a Card with another image. We hope this will help you and your team engage even more using comments!
What's Next?

Here's a sneak peek at some upcoming features.
We're working on our Mobile App!
Wiki View
The Wiki view will be great for tutorials, learning courses, internal guides and more! This view will have an easy to navigate left hand menu, with the full Card content open on the right. With Wiki view you will be able to nest Cards in other Cards and use SubTopics as headings.
Custom Ordering of Cards
Custom ordering will allow everyone on your team to put Cards in the order they want to view them, and will also allow them to see another team member's order as well.
Please reload